Bathroom Renovations Redland Bay
Exceptional bathroom makeovers
The MasterCraft team of renovation specialists will take care of all aspects of your bathroom renovation to provide an efficient project with exceptional workmanship, delivered within your budget. We offer a range of bathroom and ensuite upgrade options from a partial renovation reusing some fixtures and fittings to our premium plan for a total overhaul and redesign. Speak to our team about your home or investment property bathroom renovation in Redland Bay today.

MasterCraft full-service renovations
There are many bathroom renovation companies servicing the Redland Bay area, it can be difficult to know which one to choose.
Selecting a full-service renovation company like MasterCraft, who has been in the industry in Brisbane for years of and has a proven record of high-quality results and excellent customer service is a great way to go. Your home is your biggest asset, why would you trust it to anyone but the best.
Bathroom designs
Often clients will tell us they just don't know where to start when choosing the design of their bathroom or ensuite makeover, we recommend beginning with the layout is the best idea. Consider which features are important to you, eg a roomy shower, spa bath, huge mirror, or double vanity, and work on from there.
During the design and planning stage, our bathroom design team will go through the layout options available to best fit all the features you want as well as adhere to your budget requirements.
Bathroom style choices are next. The product options available can mindboggling so deciding on the general style of the room can help to narrow down the tapware, tile, and cabinetry selections.
Throughout the planning process we will provide clients with as much or as little guidance as they need. Every one of our services is customised for the individual client's requirements. Find out more about our bathroom design and planning process - complete bathroom renovations .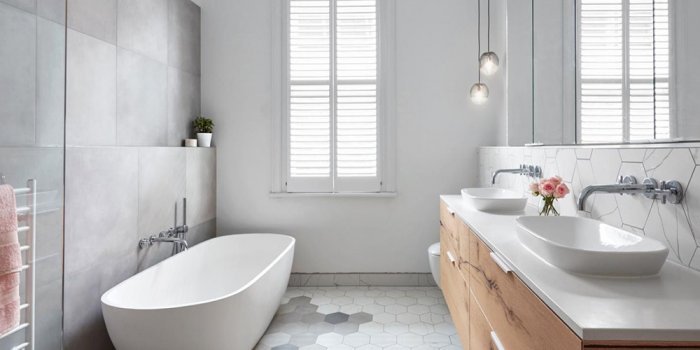 Bathroom renovation services

Some of the services covered in our bathroom renovation plans include:
Plumbing and electrical
Asbestos testing and safe removal - if required
Demolition and rubbish removal
Dust management
Concrete cutting and concreting
Termite barrier
Carpentry and cabinet making
Fixtures and fittings of your choice
Insulation
Stone benchtops
Plastering and rendering
Waterproofing
Glass shower screens
Painting
More information on our renovation options as well as what's included can be found:
Your local bathroom renovation specialists
MasterCraft provides top quality bathroom renovations in all suburbs of Redland Bay. For the very best in bathroom renovations contact the MasterCraft team on 0423 373 542 or complete our online renovation free quote request form today.
We can help with your bathroom renovations issues in Redland Bay.