Bathroom Renovations Ipswich
Your Ipswich bathroom renovations experts
Is your Ipswich bathroom in need of remodel, but you aren't really sure what to do? Mastercraft Tiling & Bathroom Renovations can help! Our team of friendly professionals carry a wealth of experience in the industry, having helped many satisfied customers across Ipswich. With a significant level of industry knowledge channeled into our work, can can have peace of mind that you are in safe hands with us. We ensure we apply high-grade workmanship to all our tasks, no matter their size, with all bathroom upgrades completed to an optimal industry standard. We only use top-quality supplies born of the latest industry trends at our disposal, so your bathroom renovation will be everything you wanted and more. Find out more now!

Industry leading bathroom makeovers in Ipswich
The excellence of what Mastercraft offers goes beyond our bathroom renovation expertise - with us, you'll receive a state-of-the-art makeover at price that fits your budget, performed with efficiency as our main priority. We complete bathroom work of various proportions, strictly adhering to client preferences every time. Whether you're after a simple upgrade or a substantial overhaul or something different again, the Mastercraft team should be your first-choice.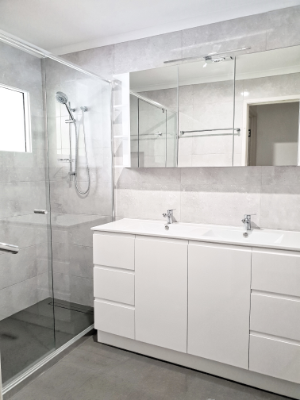 Top quality bathroom renovation services across Ipswich
Mastercraft offer a vast range of bathroom renovation services for Ipswich residents. These include, though aren't limited to:
Insulation
Painting
Plastering and rendering
Floor and wall tiling
Waterproofing
Plumbing and electrical
Bathroom fixtures
Glass shower screens
Grouting
Resheeting
If the service you require isn't listed here, do not worry! Mastercraft Tiling & Bathroom Renovations can likely still assist, so get in contact today to discuss all your bathroom renovation needs.
What benefits do Mastercraft Tiling & Bathroom Renovations offer?
In a populated industry, there are many options for you to consider when looking at renovating in Ipswich. From ascertaining your required level of work, to pondering between different bathroom remodel ideas, being decisive is a challenge when making an investment such as this.
Mastercraft's commitment to customer satisfaction, along with our top-grade level of workmanship, is what sets us apart from competitors. Our highly-qualified team take serious pride in their work. Trustworthy and respectful, we answer your queries promptly, arrive on your premises on-time, efficiently attend to tasks, and leave the workspace exactly as we found it. We assure you of a positive experience with our tradespeople. With a proven track-record of quality bathroom renovations and an extensive list of happy customers, you're in safe hands with Mastercraft. Making alterations to your home can increase asset value, so why not invest with the best there is?
Your local Ipswich bathroom renovation specialists
Regardless of what type of bathroom renovation you're looking for, you can rest assured that Mastercraft, your local experts, will leave you satisfied. Contact us today on 0423 373 542 or complete a booking form to find out more!
We can help with your bathroom renovations issues in Ipswich.