Ensuite Designs
Ensuite bathroom design ideas
Ensuite bathrooms come in all shapes and sizes, some with barely enough space for a toilet and shower while others feature a vast expanse of tile flooring with a free standing bath, double vanity, and a room for a bidet. A beautiful ensuite can offer a calm private space away from the rest of the house to get ready for work, soak the day's stresses away, or just take 5. Because ensuites, especially those off master bedrooms, are a space totally for you the design choices can also be more personal.

Looking to achieve the perfect ensuite design in your home? Book a design consultation with MasterCraft's Brisbane bathroom renovation specialists today.

Looking for a Unique Ensuite Design?
Creating the perfect ensuite
More often than not space is a consideration when designing your ensuite. How to best utilise the space available to fit in the features that are important to you. As well as how to create a room which doesn't feel closed in or cramped.
Basically, designing an ensuite is much like that of any bathroom but with space constraints. There is a vast array of decor styles, features, and fittings available to help create the perfect space just for you.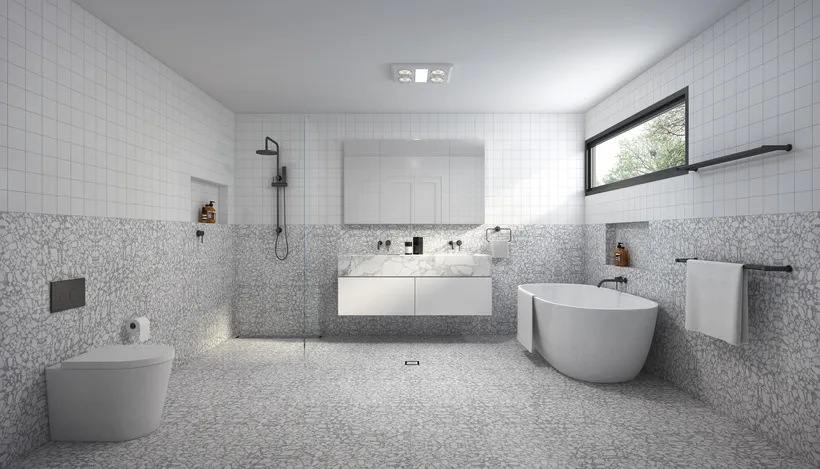 Helpful ensuite design tips
Keeping the floor clear
Providing an open, uncluttered floor space by using features such as a wall mounted toilet with a concealed cistern, a wall hung or 'floating' vanity unit, a free-standing bath, or minimalist shower tray creates the illusion that the room is bigger than it is.
Get reflective
Mirrors can be used in many areas of the home to create the perception of extra space and they are an essential feature in small ensuites. Positioning a large mirror or several smaller mirrors opposite or adjacent to the window helps to reflect natural light around the room, in essence generating the impression of a second window.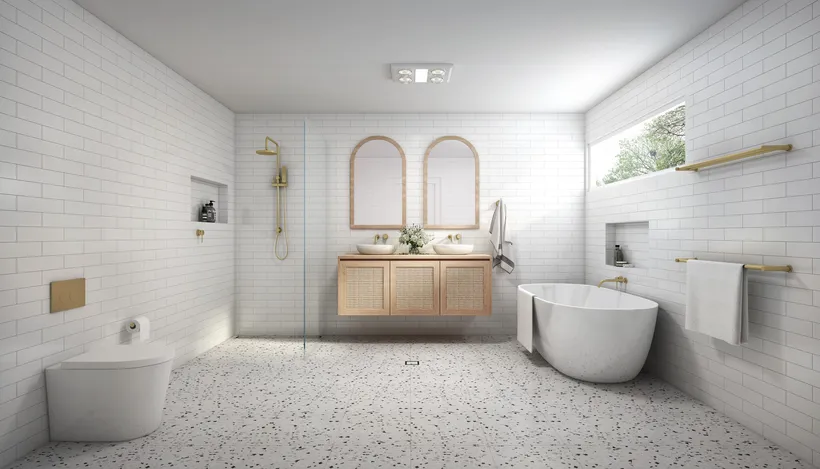 Get clever with ensuite storage
Gone are the days of bathroom storage consisting of a medicine cabinet with a tiny mirror. Modern storage solutions offer a huge range of space saving options without compromising storage space. Having somewhere to stash everything away is essential to reduce clutter in the room.
Clever ensuite storage ideas include:
using large deep vanity drawers rather than cupboards which are easy to access and avoid the issue of losing items at the back of deep cupboards.
utilise the wall space available by creating a cabinet behind the mirror over the vanity.
position open shelving over lower features such as the toilet or bath.
Open shower
Seamless transition to the shower can be created by using a frameless glass shower screen and continuing the floor tile into the shower base area. Minimalist shower trays can also aid the continuity of the floor space.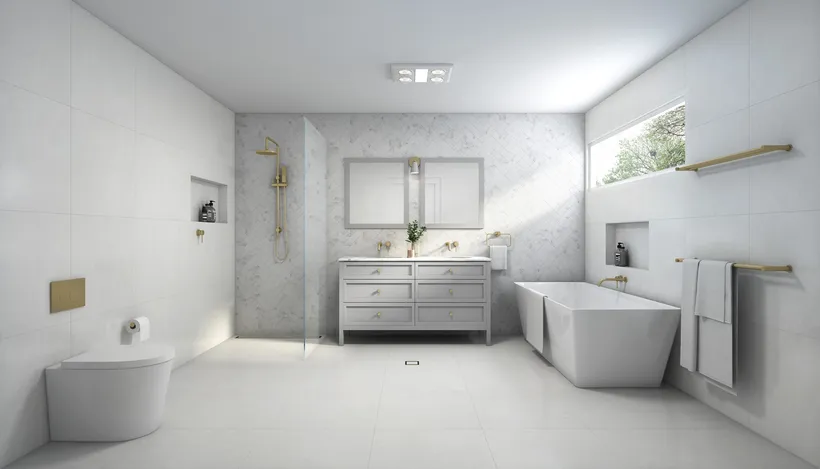 Keep it light
A light filled room feels airy and bright, maximising the natural light available as well as providing good task and ambient lighting will ensure you can easily carry out all the important daily tasks that need doing in this room. (Anyone that has ever tried to shave or put makeup on in a dull, badly lit bathroom knows how difficult this can be.)
This can be achieved by removing curtains (opting for glass frosting ensures privacy but allows light to come in), installing a sky light, ensuring task lighting is placed where needed like over the vanity and shower, and being generous with ambient lighting.
Your local ensuite design & renovation specialists Brisbane
The best tip we have is to seek advice from your local ensuite design professionals when planning your renovation project. The experts will know all the space saving tricks as well as being able to provide specialist advice on products and materials to achieve the style you are looking for.
Book a design consultation with our bathroom renovation experts by calling 0435 243 235 or complete our quick online bathroom design consultation booking request today.