Ensuite Renovations
Premium quality ensuite bathroom renovation
Looking to update your ensuite? MasterCraft provides premium ensuite renovations throughout Brisbane, offering top quality workmanship and high-grade fixtures, fittings and products to create a bespoke personal retreat in your home. We can fully customise your ensuite design to your individual taste, it's one of the only spaces in the house you don't need to think about the rest of the family.

High standard of attention to detail
Renovating a small space like the ensuite provides the opportunity to indulge in higher quality products to create a luxurious finish. Modern innovation provides smart options for your small bathroom design which mean you can incorporate most of the features of a full sized bathroom.

Our aim is to exceed your expectations, delivering an exceptional renovation at any budget.

A great makeover can be achieved by being smart with the limited space available. Our experienced team have been working wonders with small ensuite renovations for years. We'll pass on all the best renovation advice to create big things with a small space.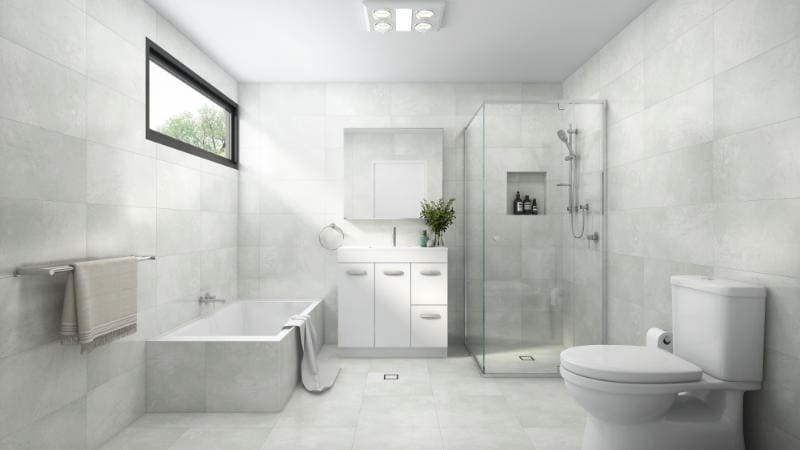 Create the illusion of space
Here are some inventive tips to create the illusion of space in your small ensuite design.
Utilise clever storage solutions - recessed mirror cabinets, deep drawers, etc
Choose a large tile - particularly with the floor tiles - fewer grout lines to break up the space
Match floor and wall tiles
Opt for a wall hung vanity to maximise floor area
Choose a shallow or narrow vanity
Keep ensuite design minimal - no clutter, clean lines
Opt for a shower only - no bath
Choose large mirrors or multiple mirrors
Use a light or neutral colour pallet
Maximise natural light - windows or a skylight
Ensure your lighting design is uncluttered and bright - a dull ensuite will feel very small
Select a frameless glass showerscreen
Choose a concealed cistern style toilet
Complete ensuite makeover services
MasterCraft takes care of every aspect of your ensuite renovation, from design to completion. We manage the reno project, organise a temporary bathroom if needed, coordinate tradespeople, order and arrange delivery of bathroom products, and so much more.
For a full breakdown of the services included in our custom ensuite renovations can be found here - bathroom renovations and renovation process .
Top quality bathrooms Brisbane
Get started on your bathroom renovation now contact our team on 0423 373 542 or complete our bathroom renovation quote request form today.

BATHROOM RENOVATIONS FAQ
For more in depth bathroom renovations information visit our Bathroom renovations Information page