Complete Bathroom Renovations
Full service renovations
MasterCraft takes care of everything during a bathroom renovation . From organising a portable bathroom for your home to use during the renovation to asbestos testing and top quality custom cabinetry, it's all part of the great service you'll get from MasterCraft.
You'll probably find that most other bathroom renovation companies don't include all the services that MasterCraft do, this is what sets our team of professionals apart from the rest.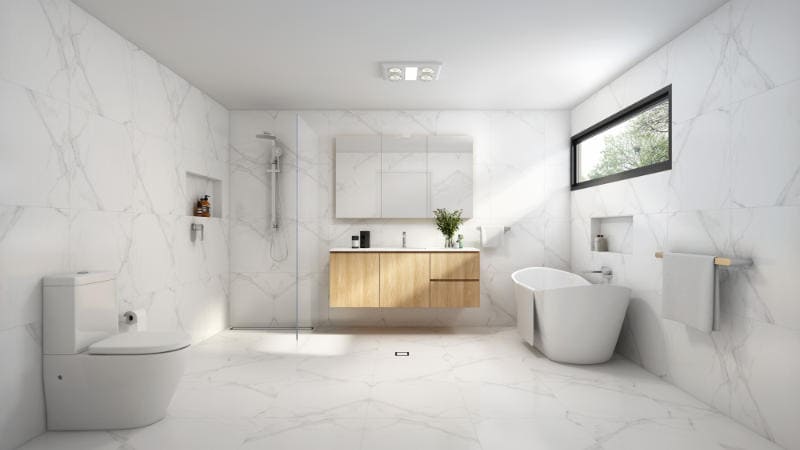 Portable bathroom hire
MasterCraft provides a Luxury Portable Bathroom for the duration of the project so you don't need to worry about not having a functional bathroom while the renovation is underway.
Portable bathrooms allow our clients to renovate all bathrooms and ensuites at the same time which is more efficient, reduces the disruption to your home, and saves time and money.
Luxury Portable Bathroom units provide you with a fully appointed bathroom ensuring your comfort, hygiene, safety, and complete peace of mind.
Our portable bathrooms feature:
Vanity area - a large semi-recessed porcelain basin with chrome mixer tap is located within a spacious vanity top with a large well lit mirror providing you with the comfort of premium quality bathroom.
Large shower - enjoy the space and convenience of a full-sized shower complete with curtain, standard shower head, easy to use mixer tap and large in-built soap and shampoo recesses. Non-Slip flooring to ensure safety.
Dual flush toilet - a dual flush toilet suite just like the one at home. The waste is connected to sewer, septic, or holding tank.
Design and planning
Concept
As part of the MasterCraft bathroom renovation service we provide all the tradespeople required, managing the project from start to completion.
MasterCraft provides packages with carefully selected quality items such as baths, tapware, tiles, toilets and accessories to create your dream bathroom.
The products in the packages are selected to meet your needs. We have cost-effective products and custom-made products which we will discuss with you at your consultation.
Mood Board
Our mood board showcases the concept products selected, so you can visualise the new style. We will provide you with the product item list from the chosen bathroom renovation package to take with you to our supplier to view your products and make any changes. Once the final selections have been made, you will send us the new list and we will update the quote accordingly.
Proposed Plan
It's sometimes hard to visualise the discussed redesign during our site design consultation. This is why we put together the proposed plan. This tool helps you visualise what your new design layout will look like.
Bathroom renovation process
MasterCraft have fine-tuned and perfected their renovation process to ensure a smooth, efficient project and a premium quality finished bathroom. We take you through the whole renovation, step by step here - Bathroom Renovation Process .
Top quality bathrooms Brisbane
Get started on your bathroom renovation now contact our team on 0423 373 542 or complete our bathroom renovation quote request form today.

BATHROOM RENOVATIONS FAQ
For more in depth bathroom renovations information visit our Bathroom renovations Information page