Small Bathroom Designs
Stylish small bathroom ideas for your next reno
Just because your bathroom lacks square footage doesn't mean it's destined to remain a strictly practical room. Mastercraft Tiling & Bathroom Renovations realise that when it comes to designing a small bathroom, planning is key, and we can help you every step of the way with everything from layout to storage ideas to ensure a compact room isn't a barrier to creating your dream scheme.
Looking to achieve the perfect small bathroom style in your bathroom renovation ? Book a bathroom design & renovation planning consultation with MasterCraft today.

Need a Unique Small Bathroom Design?
Small bathroom renovation ideas

A small bathroom can be stylish, practical and, with the right know-how, space-efficient. When you incorporate a few clever tricks of the trade – your room can soon ooze style and sophistication, even if all you have is a shower room to experiment with. Contact Mastercraft Tiling & Bathroom Renovations for all the expert advice you'll need to bridge the gap between form and function.

Mastercraft Tiling & Bathroom Renovations can help you through the process of designing your space, regardless of the size, with brilliant space saving tips to turn the most modest of bathrooms into an enviable space in minutes.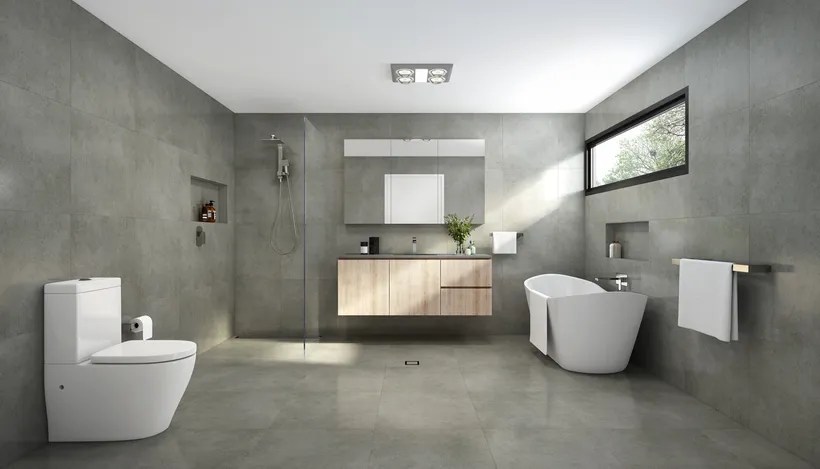 Some of our top tips for small bathrooms
Storage
Mirrored cabinets are a huge space saver and the extra storage allows for clear benchtops and surfaces.
Invest in tall tiered freestanding storage and seating.
Opt for recessed shelving.
Add a ledge above the sink or bathtub as it won't take up floor space.
Glass and mirrors
Skip the shower door and install a frosted shower panel screen.
Choose a walk in shower with frameless panels.
Expand the size of your mirrors to broaden the room.
Taps and tiles
Choose wall mounted taps above the bath and vanity.
Use the same tiles on the floor and walls to create a continuous spacious feel.
Choose larger tiles in neutral or white tones.
Showers and bathtubs
Opt for an over-shower bath that delivers the best of both worlds and place the taps on the longer side of the bath for a more luxe feel.
If you dream of a freestanding bathtub, choose a small oval one that can be paired with shallow shelves to hide waste pipes, while providing additional storage.
Lighting
Try flush mounted ceiling lights for the perception of greater space.
Add lighting around the vanity to brighten up that area.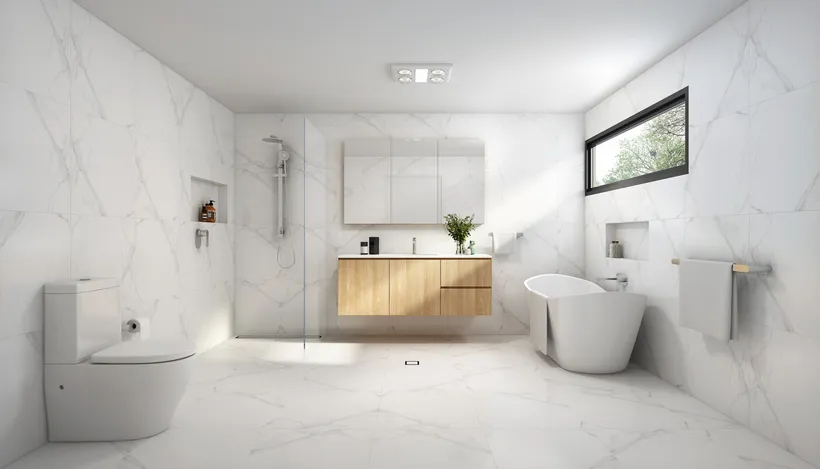 Mastercraft Tiling & Bathroom Renovations know that the preliminary design of your bathroom is paramount to the overall feel and functionality of the bathroom that eventuates, and we work closely with trusted bathroom designers to create a space you'll love. With good planning and attention to detail, we know the process can run smoothly with exciting results.
Your local small bathroom design specialists
Still not sure about your renovations, or want to speak to someone to have a chat about what you're needing? Contact MasterCraft Tiling & Bathroom Renovations on 0435 243 235 or complete the small bathroom renovation enquiry form and we can assist you today.